SeeMe HeartSister: Antonella Di Pietro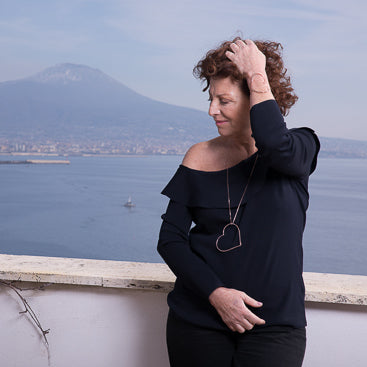 A Neapolitan fashion professional, Antonella was among the first women to join the #heartsmovement 
We had a little chat with her to discover what is in the heart of SeeMe's first brand ambassador.
Question: Tell us a little bit about yourself, your background…
Answer: I studied art in America, before entering the fashion world, first with my own label and later working for international fashion houses. I started at Ferragamo, I then worked for a long time in the group LVMH. Most recently I worked at Karl Lagerfeld and Tommy Hilfiger and now I am at Tod's. My specialty is brand restyling and repositioning.
Q: Your story with SeeMe, how did it start?
A: I knew Caterina from Naples and she is the first person I contacted when I first moved to Amsterdam. She told me about this project of hers, showed me some of her work and among all the things she had made there was the heart. We isolated it. I advised her, from a strategic product development standpoint, to solely focus her attention on the heart and get rid of all the other objects she had produced. That is where the story of the heart started. The heart then evolved with each passing season… By changing the chains we made it more rock 'n' roll, or more sophisticated, or chic. The heart became the symbol of SeeMe, and Caterina became my heart sister. Both because of an emotion we experienced together but also because of the actual silver heart, the SeeMe heart. This is my SeeMe Story…
Q: What does "Heart Sister" mean to you?
A: It is a sort of energy you immediately recognize, an immense kind of love, a strong vibration… It is this doubtless feeling that you have indeed met a sister; a heart sister, that is. You already know that you will be linked throughout your lives, and from here comes also this necessity almost of wearing the heart. It becomes a mark of our friendship, a distinguishing feature that links us. 
Q: So the heart becomes a symbol of sisterhood…
A: Sisterhood or brotherhood, the heart does not discriminate. 
Q: What do you like most about the SeeMe heart?
A: I love its magnetism. It is almost like it has its own voice, which merges with the voice of the person who wears it. It represents each woman who wears it, complementing all styles. This heart, it is as if it becomes part of your body, of you. Sometimes, when I forget to put it on, I miss it throughout the day, I feel empty. Each lives with and through their hearts in a different way, and this jewel can reflect them all. 
Q: Maybe because this heart also has a strong message behind…
A: Certainly, what I meant is that the message is not only said but it is truly perceived through the body. The way it is made influences the object. The fact that it was made by people who were suffering and then they are not anymore, this positive energy is released within the object. An the heart becomes a true source of energy. 
(Shop Antonella's favourite pieces)
Q: What is in your heart?
A: My children, of course. My family. All the people I was lucky enough to meet along the way. My heart is exploding right now, for how full of love for all those people it is. 
Q: Where does your heart lead you?

A: First of all, it has lead me back to Italy. Not a very strategic choice given the complicated times the country is undergoing, so it was definitely a decision I made following my heart. I needed to be close to my children, and to walk known paths, get back to my roots. 
Q: What makes the heart stronger?
A: Generally, I believe that being there for the people you love, especially during difficult times, makes the heart grow stronger. When you are sad or are having a hard time you might decide to just give in and give up… However, when a loved one is in a predicament, you find the strength to fight and be there for them. 
(Shop Antonella's favourite pieces)
Q: Now let's do a quick lightning round. Tell me the first things that come to mind…
Q: Favorite foods?
A: Bread, pasta, pizza and mozzarella.
Q: Women who have inspired you?
A: My mother.
Q: You are hosting a dinner, what do you prepare?
A: Pasta with vegetables. 
Q: Who are your favorite artists?
A: Mozart, Totò, Caravaggio and, among the contemporaries, Sergio Fermariello.
Q: What's your style?
A: A little schizophrenic. I really like feminine styles just as much as I like a boyish slouch. 
Q: What are your favorite cities?
A: Naples, New York, Rome and Istanbul.
Q: What do you do when you wake up?
A: I open the window to check the weather, have a coffee, put on face cream and then I jump in the hot shower. 
Q: What do you do when no one is watching?
A: I relax, let my guards down. And I would most probably put hand cream!
Q: Best advice?
A: From my dad, "Follow your heart"
Q: What's a project that excites you right now?
A: I'm writing a book!